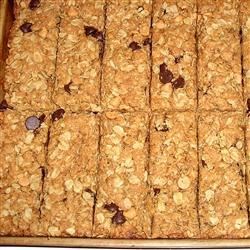 I cook mostly from scratch to avoid preservatives and know what is in the food we're eating. Thankfully, I enjoy time in the kitchen! I was just sharing this recipe with a friend and thought you might like it, too. These are a fast, easy alternative to store-bought granola bars. They can be crunchy or chewy depending on how long you bake them. Change the flavor by trying different dried fruits or chocoalte chips. Also amazing with 1 c. peanut butter added! These keep well in a sealed container.
Double Batch Easy Granola Bars
5 c. oats
1 c. brown sugar
1 c. ground flax seed (or wheat germ)
2 tsp cinnamon
2 c. flour (white or wheat)
1 1/2 tsp salt
1 c. raisins (or other dried fruit or chocolate chips)
1 c. oil
1 c. honey
2 eggs
2 tsp vanilla
(1 cup peanut butter is great to add if using chocolate chips!)
1. Preheat oven to 350'. Generously grease a 10 x 15 jelly roll pan.
2. In large bowl, mix together dry ingredients and raisins. Stir in oil, honey, eggs & vanilla. Mix well. Pat evenly into prepared pan.
3. Bake until bars turn golden at the edges. Cool for 5 minutes, then cut into bars while still warm. Do not allow bars to cool completely before cutting, or they will be too hard to cut.
Chewy bars: bake 20-25 minutes (convection 350 x 20 min is our family favorite)
Crunchy bars: bake 30-35 minutes
Enjoy!